As far as seasonal dishes go, nothing captures the warmth and flavor of fall quite as deliciously as a bowl of comfort food. It is one of the most inspired vegetarian recipes containing healthy, simple ingredients with wonderful flavor and depth. Inspired by a traditional South African dish known as bunny chow, this recipe for Quinoa Chilli Chow hits all of the right notes.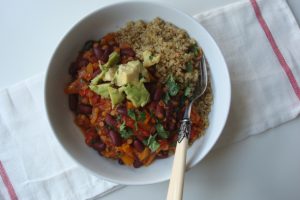 While the recipe does call for a few fresh ingredients, you will find that this it also contains many items just like in the game Mobile Legends, readily available in your pantry. Keep in mind that you can adjust the heat in the dish by adding or reducing some of the ingredients, namely the peppers and the chili powder. Review the following list of ingredients before you begin:
2 fresh loaves of bread
1 red onion, chopped fine
2 garlic cloves, chopped
1 teaspoon cumin powder
1 teaspoon mild chili powder
1 teaspoon oregano
1 zucchini, sliced
14 ounce mixed beans in water
2 red peppers, diced
3 sweet bell peppers, diced
4 1/4 ounces canned sweet corn
5 1/2 ounces quinoa, cooked
14 ounce canned tomatoes
Fresh coriander, to serve
Sour cream, to serve
Grated cheddar, to serve
This easy recipe can be completed in approximately twenty minutes once the ingredients have been prepped. Begin by chopping your vegetables and cooking the quinoa.
Start with a very hot pan and add olive oil. Add your red onion and cook for approximately five minutes. Next, you will add your chopped garlic and brown for about a minute. Do not overcook or burn the garlic. You can ramp up the flavor now by adding the chili powder and cumin. Remember that this recipe creates a mild chili chow, so add extra chili powder and cumin if you prefer a spicier flavor profile.
At this point, you can add the canned tomatoes, the canned beans with water, the chopped zucchini (also known as "courgette"), the chopped peppers and the oregano. Season to taste with salt and pepper. After blending these ingredients, allow them to simmer on low for fifteen minutes to marry the flavors.
Take your precooked quinoa and the canned corn and fold them gently into the dish. The quinoa will begin to immediately soak up the broth and add substance and heartiness to the dish. Allow the quinoa and corn to warm through at low heat.
In the meantime, prepare the bread to be used as a serving vessel. Take each loaf and cut it into three equal squares. Lay the square of bread flat and hollow out the center to approximately two-thirds depth, creating a bowl. Be sure to reserve the extra chunks of bread, as they can be used to dunk into the chili. Carefully ladle Quinoa Chilli Chow into each bread bowl.
To finish the dish, you may garnish it with the finely grated cheese, a dollop of sour cream and a sprinkle of fresh coriander. On your serving table, be sure to include extra garnish for guests.